CNC programming service at PPQ Precision Mechanical Co., Ltd
Welcome to the CNC programming service of PPQ Precision Mechanical Co., Ltd. Where you and many other customers have put their trust.
For more than 10 years as a CNC programming partner for US aerospace companies, our team affirms world-class and extensive experience in the precision machining programming industry.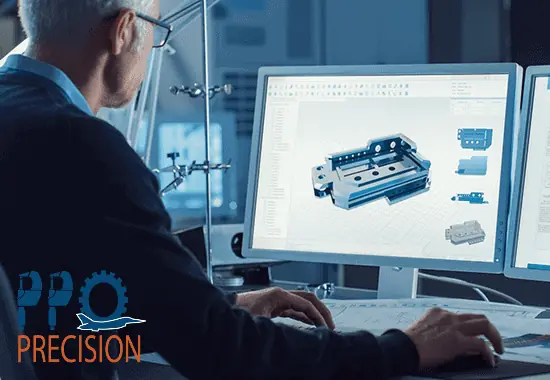 Standard CNC programming from scratch
PPQ Precision Mechanical Co., Ltd provides quality and extremely efficient CNC programming services on the basis of modern CNC programming software such as: Catia, Mastercam, NX… for any large project or small. From the smallest production part to large bespoke projects. We offer integrated solutions in design to help optimize machine investment costs and help you get the most out of your CNC machines.
Besides CNC programming, we will also provide a full detailed Setting Table, which helps you to set up Data Position, Part Orientation, Critical Dimensions and Tooling Information (flute length etc.).
All programs are tested for compatibility with your CNC machine (Gouge and Collision check) to ensure that the programming programs we provide are always ready for your CNC machining work. Friend.
3-axis CNC programming service
Our programming is fully compatible with the following operating systems: Fanuc, Heidenhain, Siemens and Haas. We have included installation documentation: tool lengths, detailed settings, data, etc.
5 axis CNC programming service
Our team of CNC 5 programmers can program virtually any geometry from simple to complex. Over 10 years of experience makes it possible for us to provide an accurate "first time" CNC programming service.
Provide realistic detailed models from ideas
With 10 years of experience modeling parts for a wide range of industries including Aerospace and Medical Devices. We accept programming and detailed prototyping from your initial ideas.
Create drawings from real parts
We provide high precision Hexagon 3d laser assisted scanning service. The data is then transferred to a CAD file and batch cloned CNC machining. Therefore, you do not need a technical team, just provide the actual parts that need programming and machining.
If there is a need for CNC programming, please click the button below, send detailed drawing files or detailed samples. We will program and return the results.